20 Most Promising Print & Package Solution Providers - 2017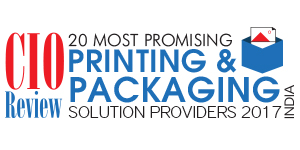 The global printing market is projected to reach USD 574.47 Billion by 2026. To stay competitive, this industry is taking advantage of emerging technologies by offering new services such as web-to print, on-demand and 3D printing. The print industry has completely transformed itself in the modern day. The present print industry looks nothing like it did twenty years ago. Corresponding to the digital revolution, the interest in traditional printing started to fade out as the desire to constantly want new things engulfed the customers. However, the industry has found ways to reinvent itself consistently. Increase in demand for vinyl and paper products have increased sales by 260%.
The Packaging Industry which is another main consumer of printing ink, has witnessed a growth of approximately 12.5% and the corrugated packing industry grew by over 8%. Owing to the ever-evolving nature of businesses, products are invented, mass produced and distributed in quicker time allocations than ever before, the packaging industry has seen a boom to meet this demand. Packaging is becoming more intelligent and inherently more lucrative in today's market.
It suffices to say that the industry is evolving rather than dying. To succeed in the industry, one must adapt to new markets and evolve products accordingly. Keeping this in mind CIOReview has come up with "20 Most Promising Print & Package Solution Providers 2017". A distinguished panel of CEOs, CIOs, industry analysts and CIOReview editorial team has scrutinized companies before finalizing these vendors who offer distinguished services to the print and package market. The panel has looked at their capability to innovate and incorporate modern printing methods in order to provide futuristic solutions.
We present to you CIOTechOutlook 20 Most Promising Print & Package Solution Providers - 2017.
| | |
| --- | --- |
| B&R Industrial Automation | A provider of automation solutions which offers high-precision motion control and ready-made technology solutions for printing industry. |
| Canon India | A provider of a comprehensive range of over 200 sophisticated and contemporary digital imaging products including digital cameras, digital copiers, multi-functional Peripherals, inkjet and laser... |
| Crayon Print Pack | A provider of design, paper printing & packaging and labeling, and a manufacturer of a broad range of printed cartons / mono cartons, labels, stickers etc. |
| Design'N'Buy | A provider of wide variety of technology advanced web-to-print solutions for B2B and B2C printing business, in-plants, marketing organizations as well as trade Printers or print brokers. |
| Easeprint Solutions | A provider of solutions in the field of Offset Printing for quick Print Management which assists at every level of printing process from first step of estimation to the final stage of finished... |
| Esko-Graphics India | A provider of products and solutions for Packaging Management, Packaging Design, Packaging prepress, Digital printing and Digital Finishing etc. |
| GreenPrint Technologies | A provider of a suite of phased software print measurement and management solutions for helping organizations operate more efficiently and profitably, and aiding printer OEMs and MPS providers to... |
| ICMC Corporation | A provider of facilities to offer printing and packaging for various segments such as Packaged Food Items and Spices, Confectionary and Pharma and Footwear and Consumer Goods etc. |
| iPrint | A provider of services such as offset printing,UV wide format printing, short run digital printing, post press production and HP latex and UV Printing |
| Kodak India | A provider of printing products such as Digital Printing Solutions, Flexographic & Letterpress, Digital Offset Plates and Offset CTP Systems etc. |
| Konica Minolta Business | A provider of products, systems and solutions for office and production printing markets including Multi-functional peripherals (MFPs), laser printers and Print on Demand (POD) system. |
| Parksons Packaging | A provider of solutions ranging from innovative and patented packaging structures to turnkey packaging system solutions. |
| Phoenix Technologies | A provider of solutions in the areas of Color Management, Digital Work Flows, Management Information Solutions, Standardisation with certification of FOGRA and customised software solution... |
| Pinsoftek | A provider of software solutions for Label Printing software, Letter Printing Software, Cheque printing software and Invoice Designing software etc. |
| Pixopa | A provider of Web-to-Print Ecommerce Solutions for printing companies or resellers/brokers for helping them sell hundreds of personalizable products |
| QuadTech Inc. | A provider of advanced color and inspection technology for the printing industry. It offers automated auxiliary control systems in more than 100 countries |
| Quark Software INC. | A provider of end-to-end content automation platform that enables creation, management, publishing and delivery of content across print, Web and digital Channels |
| Redivivus Technologies | A provider of Barcode and RFID technology solutions for various areas like Industries & Enterprises, Educational Institutions, Warehouse and Inventory Management |
| SAMADHAN | A provider of ERP solution which is created on Microsoft Dynamics Nav. for Print Management and offers full control on the operations of a typical printing press |
| TCPL | A provider of largest manufacturing of printed folding cartons, printed blanks and outers, litho-lamination, plastic cartons, blister packs and shelf-ready packaging |